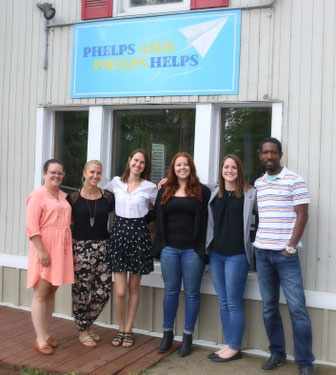 Phelps Helps is happy to introduce our three new team members for the 2018-19 school year: Genevieve Lalande, Elizabeth Courchesne and Alvin Sully. Genevieve became a member of our team last year when she volunteered for the Phelps en français program and has now been hired as our Programs Assistant. Elizabeth began in June as the Education and Career Advisor. She is your go to person for anything related to returning to school, transitioning to post-secondary education or looking for employment in the area. Our most recent addition to the team is Alvin, who will be running our Phelps en français program. This tutoring program will continue on Wednesday evenings for all high school students and, new this year, on Wednesday afternoons for elementary students of l'École primaire Jardin-des-Frontières.
Phelps is always looking to grow our team with additional volunteers. Passionate volunteers play an essential role at Phelps Helps and our programs would not be possible without them. For the coming school year, we are seeking Francophone and Anglophone volunteers for elementary and high school levels in all subjects. Being a volunteer does not mean being an expert in any one subject; it means being willing to create a positive relationship with a local youth. Phelps provides all the training you need to feel confident in your role as a tutor.
Volunteering with Phelps Helps offers you the opportunity to make a positive impact on the lives of the students in the Stanstead area. Our volunteers develop a sense of accomplishment and satisfaction. "Volunteering with Phelps gives me a sense of community, purpose and joy" - Elementary volunteer. Sign up as a volunteer today by contacting our Volunteer Coordinator, Clea Corman, by email ccorman@phelpshelps.ca or call 819-704-0799.