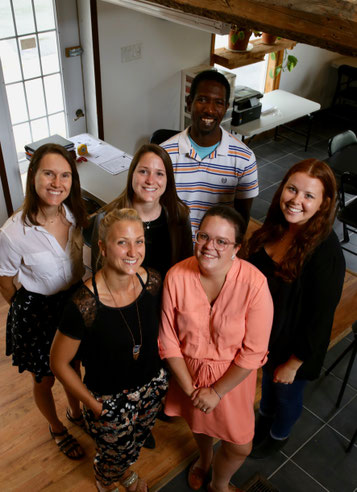 Even with students on summer vacation, the Phelps team is hard at work. Fundraising is a large part of what we do in order to offer each of our programs free of charge. Going into the 2018-19 school year, we will have nine programs - two more than last year. New this year is a Phelps en français homework program at Jardin-des-Frontières on Wednesdays after school and a Family Literacy Program that will take off in September.
Funds were raised to support Phelps' programs at the Stanstead Reunion this July. The organizers of the reunion invited Phelps to raise money by selling drinks at the "Meet and Greet" event on Friday evening. Through bar sales and generous donations, we raised $658. Furthermore, the Lac Frontières campground donated the $3000 raised at their annual volleyball tournament to Phelps in support of academic perseverance.
On July 28 and 29, we held our second annual charity softball tournament: Stanstead's Homerun. What a beautiful weekend it was for a tournament. With nine teams coming out to play and many spectators in the stands, it was a successful event. We raised $2900 thanks to our registrations, the canteen and the fact that all four teams placing in the A and B finals generously decided to donate their winnings.
We would like to thank the Lac Frontières campground, the organizers of the Stanstead Reunion and all of our volunteers at the softball tournament for their support.