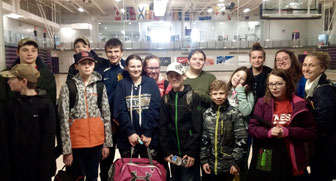 This week, Phelps' mentoring program took a trip to Bishop's University to tour the campus and swim in the indoor pool. Both the high school mentors and their grade 5 & 6 mentees were thrilled to be able to take part in this special Phelps excursion. Not only did this activity provide an opportunity for Phelps participants to get to know each other better in a fun environment but it also gave local youth a glimpse of what it would be like to attend Champlain or Bishop's.
The Phelps' mentoring program was designed to help develop the leadership skills and
confidence of its' participants while helping to create a greater sense of community among our local youth.
Not only was Phelps impressed by the front flips performed at the pool, but we were very
pleased with the behaviour of all our participants. We wish to thank Bishop's University &
especially our tour guide Ryan Smith for a fun-filled day!