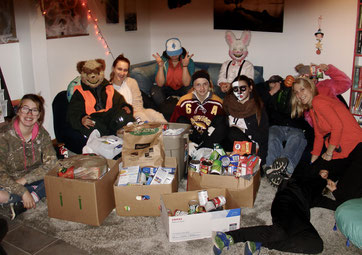 Instead of collecting candy on Halloween night, Phelps' participants and local members of youth soccer and hockey programs took the opportunity to knock on people's doors to ask for non-perishable food donations. The food was collected on behalf of the PACE C.A.B. Rediker, the volunteer centre in Stanstead. We had dozens of volunteers help with this initiative: teenagers hit the streets collecting the food donations from the homes and adult volunteers – as well as the local fire department – drove around to pick up the heavy bags of food. The community came together as a whole to restock the C.A.B.'s pantry, which supplies food for the emergency food bank program and the Christmas Basket Campaign. Thank you to everyone who participated and we hope that this might inspire other communities to do something similar next Halloween.
Phelps Aide Phelps Helps is an educational non-profit striving to reduce the elevated drop-out rate in the Stanstead area. Phelps was started in 2012 by two community members, and has grown from a single program to SEVEN unique programs, providing Stanstead area students with free tutoring, educational and career support and hands-on learning from grade 3 to the end of high school and further.
Phelps' high school sessions are averaging 20 students per evening, and many benefit from one-on-one attention. We therefore are actively seeking new volunteers, specifically on Tuesday afternoons. If you have a couple of hours a month to spare and like helping others, please consider joining our dynamic group of volunteers to contribute to the success of Phelps' programs! Please email us at info@phelpshelps.ca or call our offices at 819-704-0799.