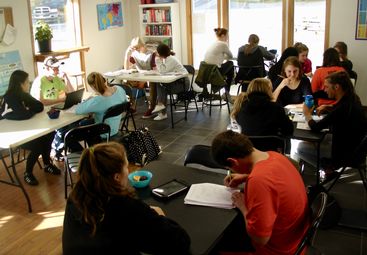 High school can be tough, especially coming from a small rural town to a large regional high school. Everything seems big, foreign and unknown. For students in the Stanstead area, taking a bus to Galt or La Ruche can take over an hour one way. Imagine finishing a long day of school at the age of 13, having to ride the bus for an hour and then starting homework. For the first couple of years at Phelps, we would remark on the dedication of the small group that would faithfully come to Phelps every week, knowing full well that many were already exhausted, both mentally and physically, by the time they walked through our doors. For those who did not attend, it must have seemed like the easier choice to not always get their work done; some were able to skate by, whereas others did not. We are pleased to say, at Phelps, that this fall has been incredible. We have participation numbers like we have never seen before: students are getting off the bus in droves, stomping down the sidewalk and coming in to Phelps smiling, ready to work. We used to peer out the window hoping for just a few kids to get off the bus, now we do a double-take at the large groups coming towards Phelps. These students are being brave and taking charge of their own futures, making those crucial first choices and deciding, whether they realize it or not, that finishing high school is important.
Phelps Aide Phelps Helps is an educational non-profit striving to reduce the elevated drop-out rate in the Stanstead area. Phelps was started in 2012 by two community members, and has grown from a single program to SEVEN unique programs, providing Stanstead area students with free tutoring, educational and career support and hands-on learning from grade 3 to the end of high school and further.
Phelps' high school sessions are averaging 20 students per evening, and many benefit from one-on-one attention. We therefore are actively seeking new volunteers, specifically on Tuesday afternoons. If you have a couple of hours a month to spare and like helping others, please consider joining our dynamic group of volunteers to contribute to the success of Phelps' programs! Please email us at info@phelpshelps.ca or call our offices at 819-704-0799.