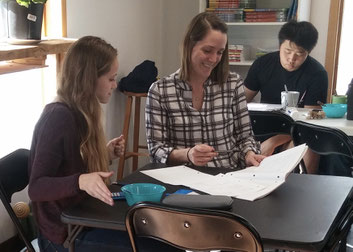 As you may have heard, Phelps Aide Phelps Helps has a new program; the Graduate Support Program. This program is designed for Stanstead area youth, individuals aged 16-35, to assist with employability and post-secondary education.
Whether you are still in high school, recently graduated, or looking to go back to school, our coordinator can help you along the way. One-on-one appointments can be made with the coordinator todevelop a pragmatic action plan geared towards personal and professional success, based on your interests and aspirations. Help with applications to post-secondary options and financial support are among many of the possibilities with this new program.
Moreover, our coordinator can support you in finding employment by identifying job openings. She is in contact with various employers and keeps up to date on the hiring companies in the Stanstead area. Assistance with job applications, CVs, cover letters, and preparing for job interviews are also offered by this program.
Over the past week, our coordinator has compiled a list of all scholarships and bursaries available to youth in the Stanstead area. This list is lengthy and has scholarships and bursaries available to students at all levels of education (even high school!). Contact us if you are currently a student and would like to take advantage of these opportunities.
For more information about Phelps, the Graduate Support Program, or to make a donation, please visit www.phelpshelps.ca. To participate in our programs or to become a volunteer, please email us at info@phelpshelps.ca or call our offices at 819-704-0799.
We will be hosting an Open House on September 28th at 5:00 p.m. at 272 rue Dufferin. Parents, students and members of the community are invited to meet with the staff and volunteers and learn more about all of Phelps' programs.