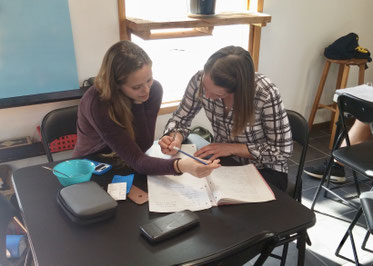 Phelps Aide Phelps Helps is an educational non-profit striving to reduce the elevated drop-out rate in the Stanstead area. Phelps was started in 2012 by two community members, and has grown from a single program to SEVEN unique programs, providing Stanstead area students with free tutoring, educational and career support and hands-on learning from grade 3 to the end of high school and further. 
Phelps' weekly after-school sessions begin September 12th this year and we are looking forward to seeing new and familiar faces alike. This year, Phelps will be open THREE evenings a week for high school students, providing a quiet and welcoming environment to study and get help in any subject. Our High School Tutoring Program will continue to be offered on Tuesdays and Thursdays from 4:30-6:00 p.m. and our new program, Phelps en français, which provides tutoring in a French learning environment, will be on Wednesdays from 4:30-6:00 p.m. Both Galt and La Ruche students are welcome to attend any of the three evenings and can get off the bus directly at our location, 272 rue Dufferin in Stanstead. Phelps' popular elementary programs at Sunnyside will be continuing as usual this year from 2:30-4:00 p.m. with the Elementary Homework Program for grades 5&6 on Tuesdays and the Elementary Educational Program on Thursdays for grades 3-6.
With these four weekly programs starting soon, we are once again looking for volunteers from the community. Interested in working with younger students or older students? Do you speak French? If you have a couple of hours a month to spare and like helping others, come join our dynamic group of volunteers to contribute to the success of Phelps' programs.
Phelps will also be hosting an Open House on September 28th at 5:00 p.m. in their location at 272 rue Dufferin. Parents, students and members of the community are invited to meet with the staff and volunteers and learn more about their programs.
For more information about Phelps or to make a donation, please visit www.phelpshelps.ca. To participate in our programs or to become a volunteer, please email us at info@phelpshelps.ca or call our offices at 819-704-0799.