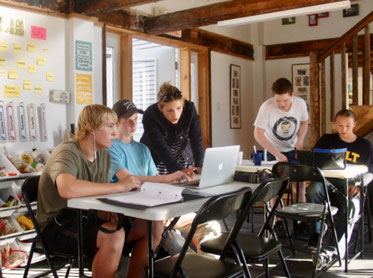 Phelps Aide Phelps Helps is an educational non-profit striving to reduce the elevated drop-out rate in the Stanstead area. Phelps was started in 2012 by two community members, and has grown from a single program to SEVEN unique programs, providing Stanstead area students with free tutoring, educational and career support and hands-on learning from grade 3 to the end of high school and further.
Phelps' four weekly programs have started and they are as popular as ever. 15 students walked through the door for the first High School Tutoring Program session of the year, ranging in age from 12 to 17 and with homework just as varied. With a massive plater of watermelon providing some brain fuel after the long bus ride, students were paired with volunteer tutors and set right to work tackling Math, History, English and Science. It is great to see new and familiar faces at Phelps being proactive and persevering at school.
For families who would like to know more about Phelps, we will be hosting an Open House on September 28th at 5:00 p.m. at 272 rue Dufferin. Parents, students and members of the community are invited to meet with the staff and volunteers and learn more about Phelps' programs.
We are still in need of volunteers for both our high school and elementary programs. If you have a couple of hours a month to spare and like helping others, please consider joining our dynamic group of volunteers to contribute to the success of Phelps' programs.
For more information about Phelps or to make a donation, please visit www.phelpshelps.ca. To participate in our programs or to become a volunteer, please email us at info@phelpshelps.ca or call our offices at 819-704-0799.